---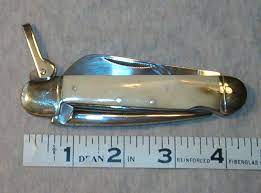 Normally called a marlin spike, the Rough Rider sailing knife is an excellent example of a traditional American Pattern Rigging knife for a person on the budget.  Currently two companies are producing this classic pattern, Rough Rider and Colonial.  The Colonial model is made in the United States.  Rough Rider is made in  China at the Wayeah Knife Factory.  Rough Rider produces the knife in four (possibly five)handle patterns:
Yellow composition w/ German Shield (RR 897)
Red Jigged Bone w/ Anchor Shield (RR 576)
Amber Jigged Bone w/ Anchor Shield (RR 535)
White Smooth Bone w/ no shield (RR 577).
The white smooth bone handle is made of domestic bovine bone, a waste product of the meat packing industry. Despite its origin it reminds me of an old ivory or whale bone handle and this is why I opted for this handle material.
If you like Rough Riders then you are going to love this knife. The fit and finish is superb. I was immediately impressed with both the size of the knife as well as its heft.  Of interest, is the back spring. Instead of being one thick backspring, Rough Rider has opted to use two thin backsprings. This allows for easier opening while still giving a very positive lock once the blade or marlin spike is open.
While I originally bought it for its looks, I have no doubt that is as capable as any other rigging knife made in this pattern. The 440 "Tested Sharp" blade is razor sharp right out the box and the locking marlin spike is smooth and blemish free making it very effective at picking lines and loosening knots. The spike locks in the traditional method using the bail to release it.
All in all a very attractive knife, that will handle light rope work and look good doing it. Definitely worth the suggested retail price of $11.99- $14.99.
---
Pattern: RR577 (American Military Pattern)
Manufacturer: Rough Rider
Country: China
Closed Length: 4 ½ inches
Blades: 2
       1) 3 in. Sheepfoot
       2) 3 in. Marlin Spike (locking)
Blade Steel: 440 Stainless Steel
Handle: White Smooth Bone
Shield: none
Pins: Brass
Lining: Brass
Bail: Nickel-silver
Bolsters: Nickel-silver