---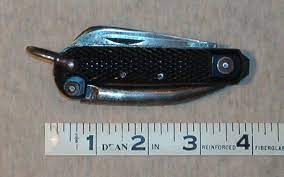 This is an original W & SB (Wade & Butcher) knife manufactured in 1943 for use with the British Military. While these knives were primarily made as a sailor's knife they were issued to all branches of the British Military and Commonwealth forces. 
This is a new pattern clasp knife that came out just before World War II and replaced the Pattern 6353. Almost every knife maker in Great Britain and most of the Commonwealth produced these knives and thus tens of thousands were produced during the war. The same pattern was copied by Italy as well as other nations.
Some early UK models were made with a steel top bolsters.  However, with the outbreak of war, this practice was stopped in order to conserve steel. Manufacturers then began molding the top of the Bakelite handles in the fashion of a bolster. Most war time examples were made with carbon steel but eventually stainless models started to be issued, especially in the Far East where corrosion became an issue.
Because Sheffield, England was and remains the center of knife making in Great Britain, these knives are often referred to as "Sheffield Riggers" regardless of the Company of manufacture. Those made in Sheffield will either be marked with the Sheffield Arrow stamp or the word Sheffield, or both along with the individual company trademark. Most will also have the date of manufacture. Collectors prefer knives stamped with a war time manufacture date (1939-1945).
My particular knife shows a long life of heavy use but very little abuse. The knife still walks and talks as good as one straight out of the factory. The tang marks appear on the split blade and have been rubbed down a bit but are still visible. All the blades open and close with a positive, strong snap.
Despite 65+ years of heavy use, possibly some it during war time, the quality and workmanship of this war time produced, government issued knife still shines through. So much for the myth of government issued knives being poor quality! This is one of the few riggers I own where there is absolutely no wobble in the spike. I would place its value around $50-$75 in its current condition.

---
Pattern: Pattern 317, Three Piece Clasp Knife
Manufacturer: W &SB (Wade & Butcher)
Country: Great Britain (Sheffield, England)
Closed Length:  3 ¾ inches
Blades: 3
       1)  Sheepfoot: 2 ½ inches
       2) Marlin Spike:  2 ¾ inches
       3) Split Blade:  2 ½ long (5/8 inch internal cut)
Blade: Carbon steel (MoD Standard)
Handle: Bakelite
Shield: none
Pins: Carbon steel
Lining: Carbon steel
Bail: Carbon steel
Bolsters: None (molded)