---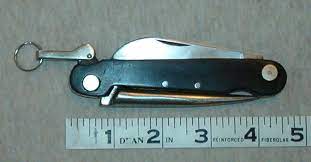 The Camillus CM695 was marketed as a Boatman's knife. (CM 696 is the same basic knife but with a serrated or half serrated blade). It is a civilianized model of the military pattern rigger and made on the same basic frame. The deminsions are the same as the 1942 U.S. Navy pattern rigger but the the knife has the large bird'e eye rivets and smooth black delrin scales. Camillus made this knife for W.R. Case & Sons under pattern number 3246 and 32146, (normally with other colored handles). The Ka-Bar 1121 Rigger Knife is the same knife, also made under contract by Camillus
Like most Camillus Riggers, earlier version have a strong back spring made of 1095 carbon steel. Later version had either a a single thick stainless steel spring or a two thin stainless steel springs. The scale material is often said to be Delrin but according to Camillus factory records the material is Cabone. Some day, I might find out just what Cabone is. I't is probably some type of carbon fiber or glass fiber reinforced plastic similar to Delrin.
My knife has the same single back spring which requires more effort to open than the double backsprings of some later models. The same model is now being made and marketed by Blade Classics as the Catalina as well as a few other companies. The Blade Classics knife is made in Chin and sports G-10 textured handles.
My knife is in overall very good used condition, no rust minor surface scratches but shows signs of use and sharpening. (It should, Ii've used it!).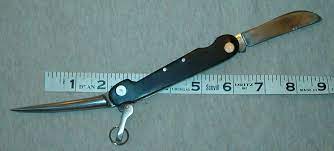 ---
Pattern: CM 695 (Boatman's)
Manufacturer: Camillus
Country: USA (New York)
Closed Length: 4 ½ inches
Blades: 2
       1) 3 in. Sheepfoot
       2) 3 in. Marlin Spike (locking)
Blade Steel: 440A
Handle: Black Composition (Cabone)
Shield: None
Pins: Stainless
Lining: Brass
Bail: Stainless
Bolsters: None