---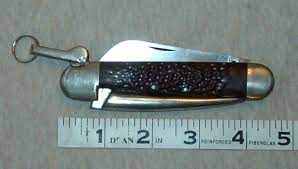 In 1942 the U.S. Navy approved a Marlin Spike knife similar in size and pattern to the old 6335 pattern used by Great Britain. The pattern was slightly over 5 inches long and consisted of a sheepfoot blade and Marlin Spike. The knife proved popular but it was large and heavy. And interesting feature of the knife was flat head screwdriver integrated into the pommel end of the handle.
Soon afterwards, a modified version of this knife with a slimmer 4.5 inch frame and lacking the screwdriver was offered and adopted for use by maritime forces. The contract for production was primarily held by Camillus of New York. The pattern number used by Camillus for this knife was CM 697. Early versions of the knife had a single carbon steel (1095) backspring and stainless steel blade and marlinspike. Later versions were made with a stainless steel spring and still later versions had two thin stainless steel springs. The knife was available in Navy base exchanges and Ship stores as well as in civilain markets but was not nesessairly an issued item. It has nickel-silver or stainless steel bolsters, steel pins and jigged Delrin handles.
The tang on the knife is stamped Camillus/Stainless/USA and suggests and dates from the late 1970s or early 1980s. According to Camillus factory records the scales are brown stag Delrin.
Camillus also made this pattern knife for several other American knife makers, including W.R. Case & Sons, with the only differences being handle materials and the appropriate manufacturer's tang stamps. In fact, if you have an American made Rigger built on this frame, it was probably made by Camillus. The exception is probably the Schrade Walden riggers which were made on a slightly smaller frame. (Schrade also made riggers for Case.)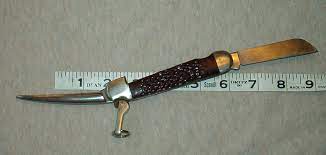 ---
Pattern: CM 697, Marlin Spike Knife
Manufacturer: Camillus
Country: USA (New York)
Closed Length: 4 ½ inches
Blades: 2
       1) 3 in. Sheepfoot
       2) 3 in. Marlin Spike (locking)
Blade Steel: 440A
Handle: Brown (Stag) Delrin
Shield: None
Pins: Stainless
Lining: Brass
Bail: Nickel-silver
Bolsters: Nickel-silver