---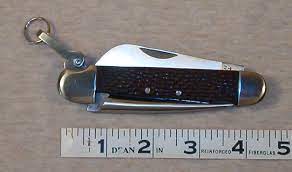 Colonial's Rangers Series 1757 is the current U.S. Navy rigging knife (NSN: 5110-00-530-1757) and as such,meets or exceeds D.O.D standards. The knife is available in Navy base exchanges and ship stores as well as in civilain markets but is not nesessairly an issued item.
It has nickel-silver or stainless steel bolsters, steel pins and jigged Delrin handles. The knife features the double back spring found on later pattern marlin spikes knife which allows for easier opening and closing of the main blade and marlin spike. The fit and finish of the knife is a bit rough. The main problem is the stainless steel pins that protrude a bit from the Delrin handles. Otherwise, the knife is will made with a decent finish.
The knife comes with a durable black Cordura nylon sheath with the Colonial Knife company logo on the front. The marlin spike has a very sharp point and the main blade is razor sharp right out the box. All steel parts have a nice satin finish which hides finger prints and reduce glare. In all, a well constructed knife with some m minor finishing issues.
Obverse tang is stamped Colonial/2010/Prov. RI
Reverse tang is stamped 440A/Stainless (later versions are made with 440C, according to the Colonial website.)
There is some ambiquity as to place of manufacture. In the case of the knife I received, both the packaging and the knife only list Providence R.I. or United States for country of origin. Regardless of the place of origin, the knife is a little high in price compared to other similarly produced knive and like quality.(This is especially true if the knife is made off shore as some suspect!)

---
Pattern: Pattern 1757 Ranger
Manufacturer: Colonial
Country: Providence, R.I., USA
Closed Length: 4 ½ inches
Blades: 2
       1) 3 in. Sheepfoot
       2) 3 in. Marlin Spike (locking)
Blade Steel: 440A Stainless Steel
Handle: Brown Jigged Delrin
Shield: None
Pins: Stainless steel
Lining: Stainless steel
Bail: Stainless steel
Bolsters: Stainless steel