---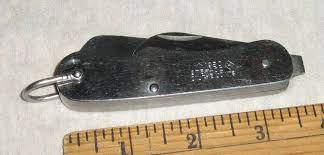 A 1980 British Army Issue two piece clasp knife. The knife is the same as the three piece except it lacks the marlin spike. It is commonly called the "Burma Knife" because the pattern was famous for being used extensively by British and Commonwealth Soliders (especially Australians) in the jungles of Burma during World War II.
The use of stainless steel knives became a necissity in the Pacific during World War II because carbon steel knives would sometimes rust closed over night in the hot damp climate. Other handle materials such as wood, bone and even many plastic also prooved problematic due to the heat and humidity and so stainles steel became the handle and blade material of choice. It remains popular to this day.
On a side note -- When the stianless steel was first introduced many soldiers thought the knives were actually rust proof. Soldier quickly found out that stainless actually meant it will stain or rust less than regular or carbon steel. To alleviate the problem the British started stamping the words "oil the joints" on the handles or blade tangs to remind troops to oil the knives. The knives also picked up the nickname "oil the joints knife" because of the printing. The name is now applied to all three patterns of British clasp knives (one, two, and three piece clasp knives).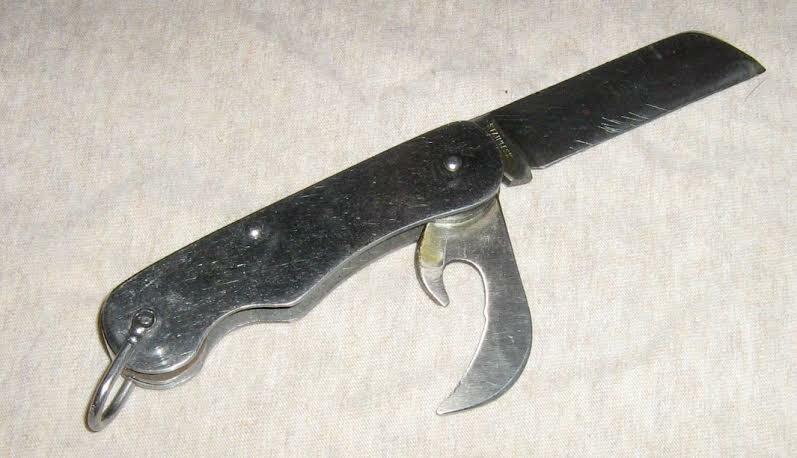 ---
Pattern: British Army Two Piece Clasp Knife
Origin: Burma Knife
Manufacturer: ??
Country: England (Sheffield)
Closed Length: 3 ¾ inches
Blades: 3
       1) Sheepfoot - 2 ½ inch
       2) Can opener (oil the joints)
       3) integrated screwdriver
       
Blade Steel: Stainless Steel (Mil-Spec, 440 or equivalent)
Handle: Stainless steel
Shield: none, see notes for handle stamp
Pins: Stainless steel
Liners: Stainless steel
Bail: Stainless Steel
Bolsters: None