---
Most of the information on Rough Rider Rigging knives can be found on the entry for the RR 577 knife. I owned that one first. This is basically the same knife but has Acrylic handle scales made from Rough Rider's Hazardous Swirl line of knives. The swirl is essentially a mix of yellow and black acrylic plastics that have been swirled together. I came upon the knife a few weeks before Smoky Mountain Knife Works launched the Hazardous Swirl knives. It cam unboxed and without a pattern number.
I'm not sure if it was a prototype or if someone re-handled a handful of Rough Rider Marlin Spikes with the material. I have not seen the item for sale through Smoky Mountain Knife Works.
The scales appeared to be epoxied to the liners but the fit is perfect. The over all finish is superb. The build is up to Rough Rider's usual high standard. Would like to see more endeavors such as this from the folks at Smoky Mountain Knife Works.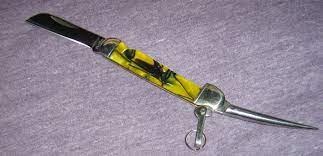 ---
Pattern: RR Hazardous Swirl
Manufacturer: Rough Rider
Country: China
Closed Length: 4 ½ inches
Blades: 2
       1) 3 in. Sheepfoot
       2) 3 in. Marlin Spike (locking)
Blade Steel: 440 Stainless Steel
Handle: Acrylic (Celluloid)
Shield: None
Pins: Brass
Lining: Brass
Bail: Nickel-silver
Bolsters: Nickel-silver